Post-pandemic changes in office design could be determined by the number of employees on duty.
While the pandemic continues, many companies are set to return to office in 2022. This means that across the country new office designs are being planned and implemented. However, there is no one method that works for all businesses.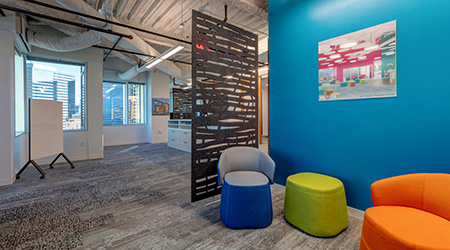 Oculus
When it comes to office design, facility managers need to ask many questions before employees return and before office operations resume. Does the company want its employees to be back in the office full time, or is it leaning towards a hybrid model or even all employees working remotely? If they adopt the hybrid model, how often do they want their employees to come? Will the employees who come in have office meetings and collaborate? There is a balance between what is best for the business and best for the employees when making these decisions.
Additions by subtraction
Once these questions are answered, it is crucial to determine the ratio of in-office and off-site employees working remotely. Is it 10 to 1? Is it 5 to 1? Once the employee ratio is determined, facility managers will know how many dedicated spaces are needed. The rest of the office space can then be arranged and landing / flex spaces established.
Some companies with larger head offices or regional offices are removing all their employees from dedicated offices and workstations and using a hybrid model. With no construction required, these empty desks can be reused as additional conference rooms, boardrooms, and collaborative spaces.
Some returning employees may need a permanent desk, while others prefer the "shared office" approach of sitting in a new area each day. Whatever their preference, everyone needs a space where they can feel safe working alone or in collaboration with members of their team.
Comfort design changes are also being made in offices where employers give their employees what they really want. This includes multiple monitors, wide desk spacing, and a variety of seating types, from traditional office chairs to living room furniture. The new lines of multifunctional furniture offer designers many creative options for their clients.
(Bright and inviting spaces are essential for providing occupants with a pleasant return-to-office experience.)
As businesses move to less dedicated spaces, the use of lockers becomes more and more important. Gone are the days of the school locker. Designer finishes help blend them into the surroundings with the same functionality. This gives hybrid employees or employees without a permanent desk the option to leave specific items in the desk, so they don't need to claim a permanent desk. Lockers are also used as a space divider to help create collaborative spaces.
Companies continue to embrace more technology – or at least more reliable technology – as this is a big factor in reworking larger footprints as employees use different office options, split up, or work together ever since. different cities and states. Upgrading internal networks, accessible Wi-Fi, video conferencing equipment, and servers to handle secure VPN access is key to collaboration between virtual and in-person employees. The deliberate integration of these tools into the design helps employees feel like they are sitting at the same table, even if they are working from different offices or homes.
Many companies returning to full-time office or hybrid models are adding equipment to their desks so that employees can relax and even improve their health. These amenities include fitness spaces, babysitting services, and counseling, among other features to help bridge the gap between the residential environment and the office space. Some companies allow dogs in the office for the first time. With an increase in the adoption of pets during the pandemic, bringing pets to work could be a real benefit to employee mental health and, therefore, to business bottom lines.
Despite so many changes to physical office spaces, one thing that won't change is the pre-pandemic open space plan. The office space will remain open in most cases, but the office footprint may change. For example, the landing spaces will be more extensive than before, which will increase the footprint of the office space.
Consider WELL-BEING
The pandemic has shown everyone that buildings can spread disease if poorly managed. They can also help a person stay healthy through proper design and management. Americans, on average, spend about 90 percent of their time indoors. In some indoor environments, the concentration of pollutants is up to five times higher than typical outdoor concentrations.
WELL Certification through the International WELL Building Institute is emerging as an industry standard for advancing global health and wellness. Currently, more and more buildings on the East and West coasts are WELL certified.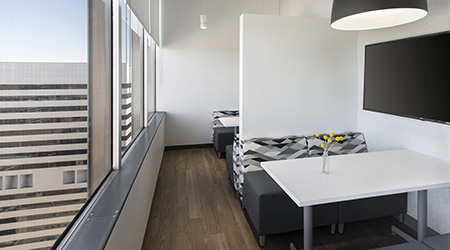 (Allowing occupants to move around and work at various types of "desks" can improve their perception of space and encourage them to return more frequently.)
Unlike a LEED certification which focuses on sustainable buildings for energy and cost savings, WELL is a tool that examines air, water, food, light, materials and communities, among others. factors, to advance the health and well-being of employees in buildings around the world. This certification gives designers, architects, building owners and developers a framework for creating interior and exterior offices and how to effectively design around these spaces.
As with open plan offices, cleanability is also here to stay. Antimicrobial materials will continue to be popular and used as much as possible. Manufacturing processes have changed to apply or bake antimicrobial elements in products specified for use in corporate offices. Silver and copper finishes are likely to gain popularity due to their ability to resist germs and viruses. Bleach washable options are also used more in upholstery. Hands-free solutions are still at the top of the design choices made.
Air quality is a major factor in WELL certification, and the COVID-19 pandemic has only put it at the forefront of building design. Having windows that open (where possible) is one of the keys to improving the air quality of a building, as natural air can help bring high quality air into a building. From an infection control and prevention perspective, naturally ventilated spaces provide a healthier indoor microbiome. Numerous air quality studies have shown that natural ventilation can reduce infections by more than 50 percent.
High Efficiency Particulate Air (HEPA) filters can also solve this problem. This type of air filter can theoretically remove at least 99.97% of dust, pollen, mold, bacteria and most airborne particles. An older building can be retrofitted by installing HEPA filters in individual rooms.
Indoor plants can also be used to bring nature indoors and improve the air quality of a building. While a single plant will not be successful in purifying the air, a wall covered with plants might. According to a 2020 study published in the Journal of Environmental Management, scientists found that a plant wall filled with suitable plant species "can be used to create a horticultural sustainable internal plant wall and improve the index of plant life. health in indoor building environments ".
Plants along with the incorporation of natural light contribute to biophilic design by bringing nature into indoor environments. Natural light also provides the visual and mental cues that help balance circadian rhythms. Research has proven that these elements help employees focus while reducing stress and increasing productivity.
Sustainable solutions with products and designs are also an integral part of the WELL design. Sustainability continues to grow as companies reassess their priorities. As new plans for the office environment are developed, creative solutions must examine sustainable options alongside trends. Reusing existing parts is one of the easiest ways to go in this direction.
Once businesses have planned their return to the office, numbers are a crucial part of starting the design process. Each business must determine how many employees will be in the office and offsite working remotely. Once done, the rest of the office space can be arranged and landing spaces, collaboration areas and new solutions can be established. Many companies are taking this opportunity to re-evaluate their spaces to incorporate WELL design practices as well as new equipment, such as fitness spaces and collaboration spaces, to improve the experience and productivity. employees. Using these techniques and elements also helps companies attract and retain their workforce, helping them to differentiate themselves from competing organizations. With most people spending around 90% of their time indoors, a well-designed office can make all the difference.
Ali Summerford is Director of Interior Design and Joanne Fields is an Interior Designer at Oculus, Inc., an architecture and design firm.
---
---
---
Related topics:
comments